Monitor blogs and social networks
O
ur Social Media monitoring tool is a revolutionary way of data-mining which aggregates real-time data from multiple social media sources.  This allows an unprecedented level of insight into what is happening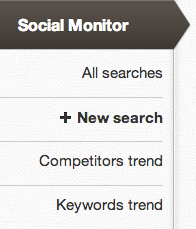 right now – with instant access to the latest comments, tweets, posts and sites all over the web.
Currently we mine the following social media outlets:
Twitter, Facebook, Wordpress blogs, Digg, Myspace, Google Buzz, Sixapart, Blogger and RSS Feeds
Approach
Monitoring in real time is great for some applications, but most often you will want to collect and store the data over a period of time for processing and analysis at a later date. Doing this yourself requires the time and resources to build a system that can handle and store the data, often not a very cost effective approach.web2insight can collect the data for you and enable you to export it as and when required in a structured way. This offers an ideal solution for brand and reputation monitoring, tracking & trending applications and data re-use.Using firehoses brings full meta data with every record, because it does NOT rely on 'Search' or 'Scraping'. This means you have full access to all of the information surrounding the tweet / post / comment, you can see who and where it comes from and extract information about the individual and their context. All of this, in turn, can be used to refine your searches to maximise the efficiency of data collection.
Most traditional platforms use old-style indices for conducting their searches. Our solution does not rely on index data but individually designed queries which, combined with the metadata, empower the user to learn 360° about their audience. Queries reduce 'noise', allow complex sets of criteria to be applied and work in a unified way even with very large scope searches.
With the web offering ever more sophisticated means to communicate, we need to mine the available information in more intelligent ways.
Data Augmentations
Data augmentation allows for extended filtering capabilities and, through our storage layer, gives enhanced analysis during post-processing.
Why is this of great value?
It can be used in core filtering and data mining to derive authoritative results.
The third-party augmentation data is stored for retrieval or secondary filtering.
Additional data sets provide enhanced insight and analysis.
Reach, network influence and amplification can all be counted accurately.
Types of Augmentation
Social Authority
Currently we use Klout and Peer Index. Your business needs influencers. They are already talking about your industry and maybe even your products and services. Find and engage these influencers and they can become advocates for your brand. Klout augmentation of our data sets allows you to find influencers based on topic or hash tag. Do you know the true value of your customers?
Traditionally, lifetime value has been based on purchases, but with Klout augmentation data you can understand their network value. People trust recommendations more than they do advertisements. Klout data augmentation allows you to tap in to that power.
Peer Index helps you understand and benefit from your social and reputation capital online. The core offering for this augmentation is built around topic based authority rankings. Peer Index gathers and analyses public data to create a picture of your authority and activity on a given subject.
Natural Language Processing
Natural language processing augments the data with sentiment scoring. Sentiment scoring uses an algorithm to rate the positive and negative assertions that are being made by an individual. Historically, sentiment was measured by the marketing department and often done by hand. The obvious limitations of scoring content by hand led to the development of computed scoring.
We use Salience by Lexalytics. Once you have a reliable and consistent method for sentiment scoring, a host of options opens up: manage your reputation more effectively by listening to the effects of an activity or a negative event, get direct and unbiased access to your "voice of the customer", understand reputation events pre- and post-event by checking whether there were conversation streams preceding what happened through eDiscovery, and so on.
Trend analysis
Want to know what's hot right now? What to be inspired by? Emerging themes for creative applications?
We provide a trending analysis function, which enables you to find out what is hot across the social blogosphere. At the moment we get the data from Twitter. We aggregate trends from Twitter and also trends from each tweet. We also check if a trend is part of other trending topics.
Social Identity Aggregation
Qwerly is used to augment the data for Social Identity. Qwerly data looks up results about people by their Twitter username, Facebook userID or username, or email address. The augmentation is data returned about the person, mostly other social networks like Facebook, LinkedIn, Foursquare, Plancast, Quora, Last.fm etc.
Links
This offers the option of a deep link inspection of content which is being propagated via tweetmeme.com and real-time updates. We can use augmentations such as link title, url, domain, counting retweets of a given link, produce a short web page excerpt and log the time it was created.