Social Communities Introduction
O
nline communities offer amazing opportunities for you to set up and expand online relationships and network with your brand community.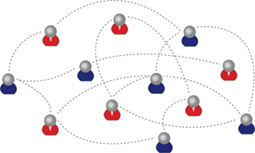 web2insight makes it cost effective and very easy for you to establish a social network community for your brand with features such as activity streams, flexible design, photo sharing, video sharing and support, organic groups, event management, customized profiles, private messaging, external social network integration and many more features.
Creating a fan page on Facebook doesn't do much justice to your unique brand community. You will be stuck with the same blue colors, the same design and pretty much the same functions. With flexible designs from web2insight online social communities, your brand is now open to a new level of creativity and engagement. Make your interactions more personal when you create smaller groups for specific topics that your brand is interested in. Or grow your community bigger with our invite features.
Organic groups
Successful social communities will have a tremendous growth in membership. New members will keep coming in and at some point; it becomes harder to interact with everyone. Groups to the rescue! With Groups you can recreate a smaller community and make it personal again. This is ideal for testing new brand concepts or engaging your customers in strategic thinking. Since a group is made up of community members who share the same interests, they will surely make an engaging bunch.
Our scripts can make your group into public or private; it can be fun either way. Public groups can be joined by any community members so this is perfect if you want to create a brand fan club. If you would like to create a group to test ideas and concepts then, private group is what you are looking for. It allows you to hand pick the members.
Each group can have their own Photo and Video gallery. You can share the media with group members. In the latest development update Groups became even more flexible by letting users create an event for their groups. Of course, this function can be disabled if you wish.
What about photos?
Photos taken by digital camera and mobile phones (yes, that includes iPhone) usually have orientation metadata. Our software recognizes this and auto-rotates the photos according to its original orientation. So, don"t worry, your feet will always be on the ground.
Uploaded photos can be arranged to your liking. How? Just drag and drop into the correct order and you are done. After that, don"t forget to choose the best photo to be the album cover. Yes, our social networking community scripts are that powerful.
Our clean and fast photo uploader helps you to easily upload a bunch of photos at once. It automatically queues up the photos and uploads them one by one. Uploaded photos will be shown up as thumbnails so community members can easily check if they've missed any photo.
Viewing photos is a pleasant experience, even when your Internet connection is slow. Thanks to our AJAXified photo viewer, the next photo will be displayed without page reload. You can tag photos, wait for community members to comment and reply to their comments too.
Video upload, link and share
Built into every community is a fully-featured video capability, ranging from embedding videos from your corporate site to hosting your own within the community. We provide everything that you need, without making you pay extra.
Our social community software supports external video linking. Be it video from Youtube, Vimeo or 10 other major video providers, your video will always be elegantly embedded on your community pages, complete with viewing stats, thumbnail and commenting system. You can also feature those cool videos linked by your community members.
Supporting video upload might not be everyone's cup of tea. It requires more powerful servers at our end, some initial setup and a lot of bandwidth. However, if you need it, we've done everything on our systems to make it easy for you.
Those little avatars you see on profile pages, they are too common. Now you can let your community members sizzle up their profile page with a profile video!
Events
If you need Events, they are easily managed within the software Event Manager. Set an event anywhere in the world and it will display in the Google maps. Manage your members, set an invite number limit or even send out invitations so that they can RSVP to your event. Setting up events enables your community members to be more engaged with each other. Of course, if you don"t need events it can be easily disabled as with all other modules.
Each Event has a built-in email notification system so that you can keep all the participants up to date with any changes. Plus, they can give suggestions through the event"s wall.
You can also limit how many people should come to your event, whether it be online of a physical location with our online community software.